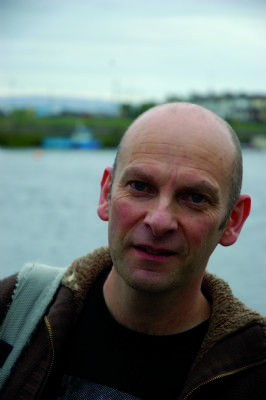 LIST OF MOTH INTERVIEWEES
All You Want is Enough
An interview with Alan McMonagle
(Issue 27, Winter 2016)
Alan McMonagle's debut novel Ithaca will be published by Picador in March 2017. 'I think it was in the genes. My parents both studied arts here in Galway. They were big readers. There were floor-to-ceiling bookshelves in our living room. Everything from Søren Kierkegaard's Edifying Discourses to Margaret Mitchell's Gone with the Wind. And from an early age I remember penning little stories and poems. I had one of those spiral-bound copybooks. One of the stories was 'The Ants Who Grew into Gi-Ants'. I remember thinking that title was so clever, you know? In third class in primary school in Longford the author Patrick McCabe was my teacher. We didn't learn too much about history and geography and sums, but my God did he steer us towards some very earthy vocabulary. And he gave us episodes of the early drafts of what was to become The Adventures of Shay Mouse. He had us on the edge of our seats every week.
'And then I stopped as soon as I went to secondary school. The teenage restlessness, that sort of took hold. I came to Galway to college. I ended up with a very ropey business degree, of all things. I spent a lot of my twenties drifting. I'd work as an office slave, floor sweep, greeting card seller. And I travelled – to London, Australia, Asia, parts of Africa. I'm not so sure if all those adventures have informed my writing as yet but that's possibly because I come with a delay mechanism.
'Each time I went away I came back to Galway. At some point I started to talk about writing again and I did some travel pieces that were taken by the occasional British travel-related publication. Then I heard about the MA in writing in Galway, so I applied for that. That was 2006. I just immersed myself. Towards the end of the year you had to choose a writing genre by which you most want to be judged, and I chose the short story. So I submitted what was to become the spine of my first collection.
'I was sending out my stories individually to various journals. I think it was Colm McCann who said he used to wallpaper the flat he lived in in New York with rejection slips. So, you know, we can all relate instantly to that.'
McMonagle's first collection of stories
Liar Liar
was published by the small press Wordsonthestreet. 'I was very pleased and happy. And there are three or four stories there that I would most definitely still stand over.
'I gave writing classes, sold the odd story, won the odd prize, got the occasional bursary. Some teaching. You're almost making it up as you go along. And all you want is enough. I mean, I never really had extraordinary ambitions to own many things.
'The second collection of stories came out in 2013. And that was with Arlen House.
Psychotic Episodes
. It caught the eye of a few people, and based on that I got invited to read at a few festivals. I was invited to the Dromineer Festival in Tipperary. I was on the bill with Donal Ryan, Paul Lynch and Julian Gough, no less. The four of us got on quite well. We went to the bar afterwards and had a few drinks and, yeah, between the three of them they started, "You know, Alan, you've been writing stories now for a little while, why don't you have a go at the novel?" They collectively threw down the gauntlet. I think Paul Lynch did throw something at me, actually … I suppose they got me thinking. I remember I had one story that I wanted to finish and it was more or less Christmas 2013. So I just decided I'd clear away all of 2014 and I'd have a go. Because I had the inkling of an idea, and a voice. And so that's what I did. It was probably just before New Year's Eve I started to write.
'With a short story you're rewriting all the time. I found with the novel you've got to write on all the time. You've just got to get the words down. In my case, the voice came and I just went with it. Unbeknownst to me at the time Paul Lynch had sent my collection of stories to his agent, Ivan Mulcahy, in London. One February day I got an email out of the blue and Ivan said that he'd read the stories and liked them and by any chance was I working on a novel. I sent him maybe 10,000 words in June. I met him then and he very politely told me to chop chop.
'I sent what I thought was a fairly solid manuscript to him towards the end of 2014. And of course not a peep out of him. A couple of months went by. He rang me up, one of those wet January Mondays, the very typical kind of day when you get one of those rejection emails or notices through the letterbox, and I thought, ah, here we go now. But all he said was, "Look, I've asked my editor here to take a look at the book, which she has done, and I'm ringing up just to let you know that pretty soon you will be getting a very robust response to your manuscript. And how you respond to this will probably determine the fate of your book." And true to his word, a couple of hours later an email arrived, with a Word document of six or seven pages, in tiny font, single-spaced, you know. The opening line was, "Alan, I know you can write but …" And then this strident dissection of the book, which took me about a week to get my head around. And then another week to summon the energy to take on what it was suggesting. And then I said to myself, I'll give it the month of February. I went at it every day, and I sent it off then in early March, and again not a peep until June. And then I got an email from him: "Alan, I believe you've done it." He summoned me up to the Shelbourne in Dublin, brought me into the Horseshoe Bar, ordered a pair of whiskeys …
'Then one beautiful Friday morning last October he rang me up and said that the publisher at Picador, Paul Baggaley, had made a big connection with it. And he said, "Yeah, he just wants to talk to some people." He rang me back on Monday morning and he said, "Are you sitting down? Not only do they want your first book, they want your second book too." I can't really remember a lot of what he said after that. I went out for a breakfast of waffles with my girlfriend. It's all very surreal.
'I don't think writing can be taught, per se. I think you can be given a lot of encouragement and advice, all of that, but two things the MA did give me was a bit of focus and a bit of discipline. I remember a great friend of mine saying early on in the MA, "My God, we're fire-fighting every week." Because you're just bombarded with deadlines and you've no choice but to get the words down on paper. And that sort of discipline stayed with me.
'I was very much a night owl for a long time. I might wait until quite late at night, at times close on midnight, for that energy that comes with artificial light and the curtains drawn, and of course the quiet of the early hours, expecting the muse to show up, everything just to pour out. But of course what happens is a late night movie catches your eye or something that you haven't seen or read yet, you know, and before you know it you're still up and it's 4 or 5 in the morning and you've just reread Ulysses or watched an Ingmar Bergman for the fourth or fifth time.
'So in the beginning of 2014 I started getting up early. And as soon as I had the guts of a scene down, and that could be anything from less than 500 words to the guts of 1,500, I felt I had accomplished a day's work. You'd spend a little time, maybe early evening, on a tweak here and there, and then you just pick it up again the next day. It'd always fall off at the weekend. It's almost like you're cresting a wave. By lunchtime on Saturday I'd feel myself on the downside of that wave.
'You're chasing a small reward all the time. And once you come to accept that then I think you have a chance at least. I feel as if I'm learning all the time. I had to dismantle a lot of tools that I had picked up as far as the short story is concerned. I mean, just to give an example, in that email that I alluded to earlier, one of the comments was that it felt like a loosely connected collection of vignettes. And I remember thinking, oh God, not only am I not yet a novelist, I am no longer a short story writer either. I'm a writer of loosely connected vignettes.
'I kind of feel now that I've acquired the rudiments of what is involved in a novel. And also what it can do. And where you can go, and what it can accommodate and tolerate and permit.'